Transitions Announces Launch of AMD Research Project Grant Program in Partnership with Eye Disease Foundation
Thursday, November 11 2021 | 13 h 55 min | News, Partnerships, Press Release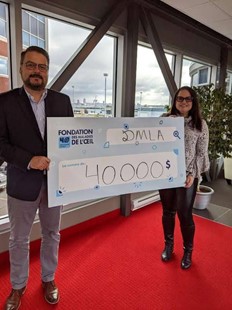 The Transitions Canada team is partnering with the Eye Disease Foundation through a research project grant program which will go toward supporting research of age-related macular degeneration (AMD). The Eye Disease Foundation has partnered with Transitions Optical for several years due to support its commitment to improving vision. Over the course of the next two years, Transitions Optical will be donating $40,000 CAD to the Eye Disease Foundation – $20,000 CAD in 2021 and $20,000 CAD in 2022.
"We are grateful for Transitions Optical's generous and ongoing commitment to our research around AMD," said Steeve Lachance, general manager of the Eye Disease Foundation. "This donation will allow us to continue to conduct studies to better understand eye diseases, including AMD, and to ultimately improve the lives of many suffering today and in the future."
Additionally, Transitions is also presenting the Starlight Virtual Fundraiser taking place December 10, 2021. As presenting sponsor, Transitions Optical's donation will support the planning and execution of the virtual fundraiser event, where attendees can enjoy a gourmet box of imported wines, cheeses, fruits, crackers, and charcuteries. Funds raised from the event will help support research by the Eye Disease Foundation.
Click HERE for the full press release.