Ray-Ban Announces Sponsorship Agreement with Ferrari
Friday, July 8 2016 | 00 h 00 min | Agreements, News, Press Release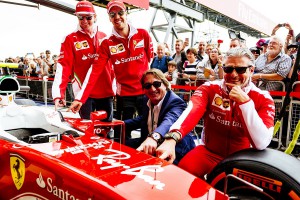 Silverstone (UK) – Luxottica Group S.p.A. (MTA: LUX; NYSE: LUX), a leader in the design, manufacture, distribution and sale of fashion, luxury and sports eyewear and owner of the iconic sunglasses brand Ray-Ban, announces a sponsorship agreement with Ferrari S.p.A.. Ray-Ban, the most popular eyewear brand in the world, signed a high-profile agreement as sponsor of Scuderia Ferrari, to be unveiled during the Formula One weekend in Silverstone, UK. As part of the sponsorship, the Ray-Ban logo will appear on SF16-H Ferrari's Formula One car livery.
Throughout its more than seven-and-a-half decades, Ray-Ban has been instrumental in pushing boundaries in music, art and film, as an internationally recognized symbol of movie stardom and accessory to cultural icons everywhere. The brand has had a distinct and lasting influence on international culture and lifestyle and represents undisputed successes through its heritage, excellence and global recognition. Tradition, innovation and fearlessness are the key elements that set the roots of the brand since 1937. With this sponsorship, the Ferrari racing red and the Ray- Ban red merge into one single color putting the champion eyewear brand in a prime position in Formula One.
Leonardo Del Vecchio, Luxottica Group's Executive Chairman said: "We are celebrating today a breakthrough partnership. We are honored to become part of the Ferrari family – a brand that perfectly reflects and embodies the same characteristics that give Ray-Ban its icon status: authenticity, cultural relevance and excellence".
Pictured in the above image are:
Paolo Alberti – President of Wholesale, Luxottica (blue suit)
Maurizio Arrivabene –  Sport Director, Ferrari (racing suit, no hat)
Sebastian Vettel – Ferrari F1 driver (racing suit with hat, beard)
Kimi Raikkonen – Ferrari F1 driver (racing suit with hat, clean-shaven)