SILMO PARIS 2022 – A Recap
Monday, October 3 2022 | 09 h 38 min | Events, News, Press Release
SWV Strategy with Vision, an independently owned Consultancy and Market Research Company, specializing in the eyewear and eye care business, routinely provides perspectives on major international trade shows. Below is their report on SILMO Paris. The report has been edited for length and relevance to the Canadian market.
DAY 1
In 2022, there was once again a village with exhibitors from China. The number of exhibitors in the Chinese village was, in our opinion, smaller than in 2019.
There was a competition for ophthalmic frame designs made by designers (Createurs). This was won by an Israeli designer. The winning frame is shown below.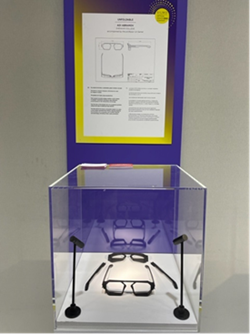 The SILMO press conference was well attended. Highlights:
SILMO 2022 had a similar number of exhibitors as in 2019.
Pre-registration of visitors had been at the same level as in 2019.
In April of 2023, there will be a new SILMO exhibition in Singapore. This in addition to the SILMO exhibition in Istanbul.
DAY 2
The Technological Innovation in Connected Products category was won by Skugga Technology AB. Short listed were Ray-Ban Stories and OBE.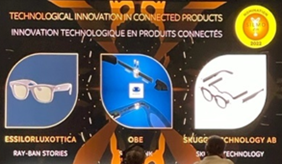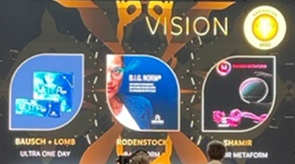 The award ceremony took place near the Hippopotamus restaurant in Hall 6. It was well attended and open to all visitors. In the past the SILMO D'OR ceremony was by invitation only at a separate location.
DAY 3
IOT (part of the Younger Optical Group) announced the launch of a photochromic lens which they claim to be on a performance level like Transitions. The product has already been launched in the USA. They will be selling semi-finished photochromic lenses
EssilorLuxottica had a section on their stand showing the new mineral photochromic Transitions lens by Barberini.
A noticeable trend at SILMO is manufacturing equipment developed for Rx laboratories where a smaller footprint is needed. The Shamir Metaform manufacturing unit, which fits into a 40-foot container, was described on Day 2. Satisloh exhibited their Metro-Lab Film. The message is "manufacture your Freeform lenses with anti-reflection in less than one hour". The unit has a 25 square meter footprint. Both companies were communicating on the sustainability of the green technology.
DAY 4
The last day of SILMO was well attended.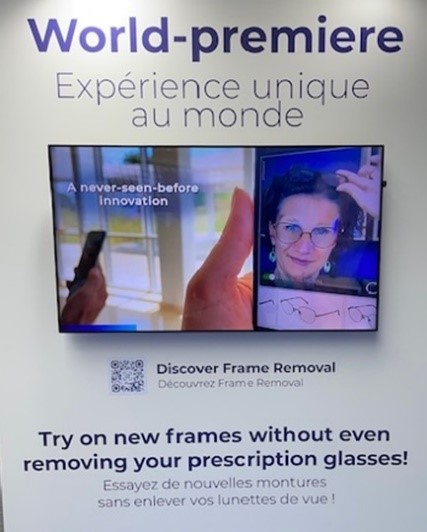 Fitting Box launched a new system to allow persons to try on a new frame in virtual reality. About 30% of persons carrying out an online virtual try-on of new frames cannot see clearly if they take their Rx spectacles off. The new developed Fitting Box can, in virtual reality, remove the real pair with correction and thus allow the customer to clearly see how the tried-on pair looks. Fitting Box mentioned that they have a lot of dedicated Internet sites of luxury sunglass manufacturers as customers.
Visionix have integrated a system in their VX 120 to calculate the level of dry eye of a patient. The new equipment is called VX120+ Dry Eye. Based on the result, patients with a score of 1 to 2 are recommended to be treated by eye drops or by nutritional supplements. Persons with a score of 3 or higher should visit an eye care professional.
Overall, it appears that SILMO exhibition has nearly returned back to 2019 pre-COVID levels, but there is still some way to go.